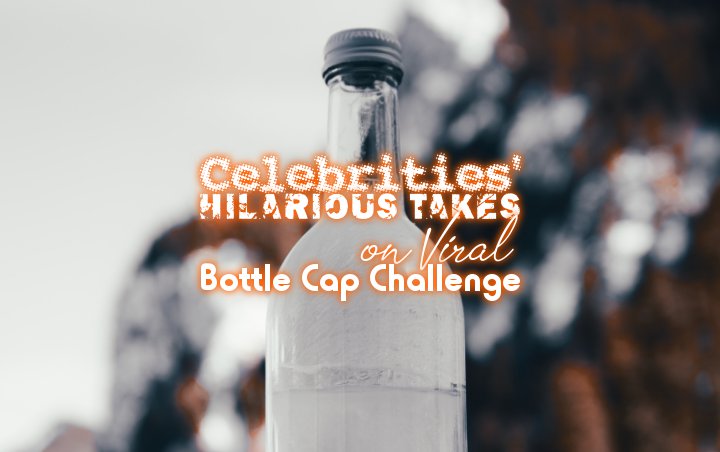 Before Sophie Turner attempts to put an end on the viral competition, some stars fail miserably in executing the challenge, while some others don't even bother to show their martial arts skills and instead nail it with unique twists.
AceShowbiz –
The latest viral competition that has taken the internet by storm, the Bottle Cap Challenge has spread all over the world. Believed to have started among mixed martial arts circles, the challenge requires one's athletic ability as the executioner has to kick open a bottle cap without dropping it or making the container tip over.
Many celebrities from Jason Statham to Justin Bieber have shown that they have the skills and flawlessly executed the challenge. But not all are blessed with the same flexibility and accuracy that allow them to boast about unscrewing a cap with their feet. Still, their takes managed to provide some good entertainment.
Take Sophie Turner's video for example. Not even bothered to use her energy more than she had to, Joe Jonas' wife filmed the video, which was posted on her Instagram Stories, on an airplane. Putting a twist on the challenge, she raised her arms as if she's going to untwist the cap without using her hands, but eventually grabbed the mini wine bottle and opened it normally. Attempting to end the popular social media craze, she said to the camera, "Stop this. Now."
But Sophie is far from being the first who puts a twist on the Bottle Cap Challenge. And because the successful ones are too common now, here's a compilation of the hilarious takes on the viral competition.
1. Stay Safe!
---
Don't do the Bottle Cap Challenge on a wood floor with socks! Brian Moote learned this the hard way after he fell on his back while filming the video at his home. Poking fun at his failed attempt, he posted along with the clip, "My #bottlecapchallenge went really well… If you are into back injuries and scaring your dogs."
2. Not Sure of the Rules
---
Marlon Wayans sacrificed some good liquor and a bit of his pride to make others laugh by sharing his failed attempt at the challenge. The former "In Living Color" star was very confident when he got ready to do it, but missed it on his first try. At his second attempt, he once again miscalculated the distance and ended up knocking the bottle to the ground and breaking it into pieces. Fortunately, he didn't seem to hurt himself.
3. Ouch! That Looks Hurt…
---
With more than two decades of experience as a martial artist, Tony Jaa clearly has advantage in executing the Bottle Cap Challenge. Still, the reality is not always as smooth as the theory. The Thai actor/stuntman accidentally kicked his friend, who was holding the bottle, so hard in the face that he was knocked down, though the friend didn't seem to be seriously injured. Trying to redeem the mishap, he then uploaded two more videos showing him unscrewing a bottle cap with his knee and elbow.
4. Keep Dehydrated
---
Jon Jones always puts first thing first. The UFC star, whose real name is Jonathan Dwight Jones, started the video dramatically with a slow-motion kick, but stopped short at screwing open the cap. Knowing what's best for his health, he kept himself hydrated by drinking the water instead of kicking it.
5. Doesn't Live Up to Expectation
---
Ryan Reynolds went to a great length to film his Bottle Cap Challenge video, which partly serves as an endorsement to his Aviation gin. But when it comes to executing the challenge, he might be one of the worst. The "Deadpool" star broke the bottle into pieces and quickly ran away as if trying to avoid any responsibility for the mess that he has caused.
6. Magic Voice
---
Mariah Carey knows what she's best at, which is hitting the high notes. So instead of trying to outdo all those athletic actors and martial artists, she showed how she opened a bottle cap with her voice, of course with the help of an invisible little trick.
7. Don't Try This at Home!
---
Andrew Zimmern perhaps should add a "Don't try this at home" warning to his video. The chef did not only kick open a bottle cap, but also showed off his knife skills by cutting an orange and a sandwich in half. But the highlight was when he attempted to send a bottle cap flying with his kick and ended up falling hard on his back. Judging from his friends' reactions and his sense of humor in the video caption, it appears that he's okay.
8. The Price to Pay
---
Not missing the viral competition, Baekhyun of South Korean boyband EXO took on the challenge with the help of his groupmate Chanyeol. Baekhyun missed and kicked his friend's hand instead on his first try. He tried again and almost sprained his thigh muscle. It's not until his third attempt that he managed to kick open the bottle cap, and in the process he also splashed some of the water on Chanyeol's face. Pranking his friend, Baekyun spilled more of the water on Chanyeol, but they both ended up paying the price as they had to mop the floor of the dance studio to make sure they wouldn't slip during practice.
9. When Your Liquor Is Too Precious
---
Blake Shelton regretted ever trying on the social media craze. The country music star attempted to follow in the steps of other stars like John Mayer and Diplo who have successfully executed the challenge. The "Boys 'Round Here" hitmaker used a bottle of his Smithworks Vodka in the video, but his ninja kick knocked the bottle onto the ground. Luckily, it kept intact. Saving the liquor, he quickly picked up the bottle and cradled it while running into the house and shouting, "What have I done? What have I done? I'm sorry, Smithworks!"
10. 'Stink' Foot
---
Shaquille O'Neal may master dribbling and shooting a ball, but kicking is definitely not his thing. The retired professional basketball player got his friend literally lent a hand to hold a bottle of wine, but the friend got more than what he bargained for when Shaq landed his kick right on his face. The video, which appeared to be made intentionally for laugh, showed Shaq's friend wiping his face in disgust. Blaming his hips which "got locked up," the former NBA star apologized to his friend, "My bad Chicago ,hope my feet didn't stink."