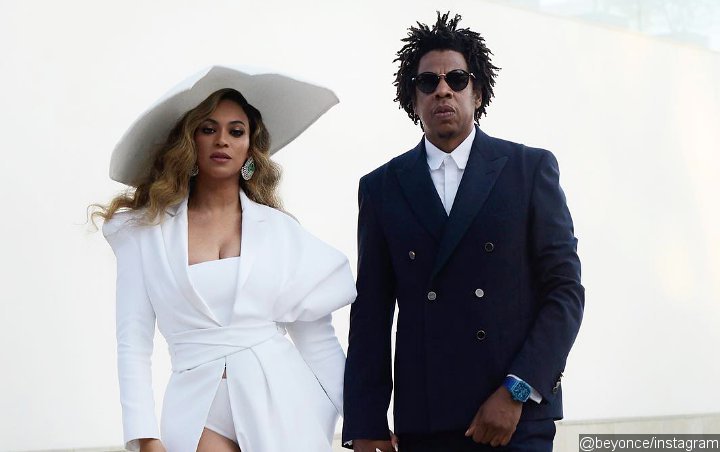 Beyhive has taken to Twitter to comment on the awkward moment captured in an ESPN video, which sees the 'Drunk in Love' songstress glaring at the mystery lady.
AceShowbiz –
For being the first hip-hop billionaire acknowledged by Forbes, it's no surprise that many people want to get close to Jay-Z. But Beyonce Knowles apparently hasn't gotten used to the attention given to her husband, possibly due to his alleged history of infidelity. The 37-year-old singer couldn't hide her feelings of discomfort when another woman got too chatty with the rapper when they attended Game 3 of the NBA Finals on Wednesday night, June 5.
The pair sat courtside during the game between Toronto Raptors and the Golden State Warriors at Oracle Arena in Oakland, California. An ESPN video caught Beyonce being sandwiched between Jay-Z and a mystery lady, who kept talking to the Roc Nation founder when the camera panned to the couple.
Jay-Z seemed to try to ignore the raven beauty, but she adjusted her seat and moved forward to get the hip-hop star's attention, not realizing that Beyonce looked annoyed. The "Run the World (Girls)" hitmaker suddenly changed her smile into a glaring look before the lady in yellow stopped talking to Jay-Z.
As the video went viral, Twitter users weighed in on the woman's action, with many thinking that she was being disrespectful. "beyonce was not feeling that girl," one tweeted. Another tried to explain Beyonce's feeling, "had to adjust herself in the seat she was so annoyed."
"How dare her talk across Beyonce," someone commented. Another sounded off what's possibly in Beyonce's head at the time, "Idc who she is we said BEYONCE wants her gone. She will have to go."
"Excuse Me, Why does that lady keep trying to talk to Jay Z? BEY not having this first she shifts in her seat," another observed, "A Deep Breath, then the slight Eye Roll, next she sorts of shifts forward in her seat as to put a total Block on that Bih! Ok #Bey I U Girl gon Handle ur Business."
The lady in question is reportedly the wife of the Warriors owner, Joe Lacob, who was sitting right next to her on the other side during the game.