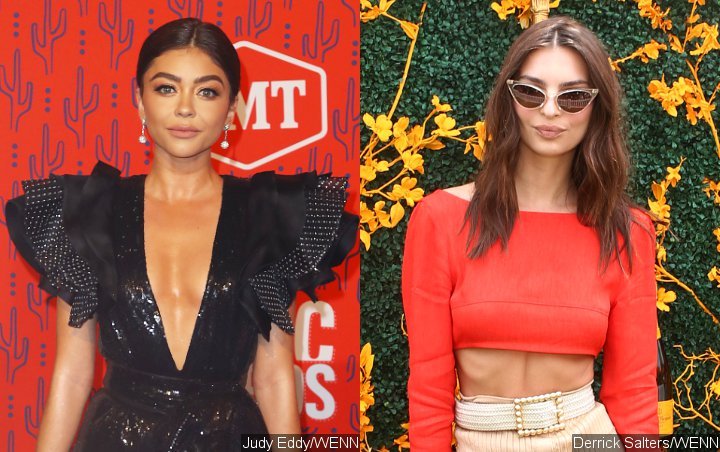 As her post is flooded with negativity, the 28-year-old 'Modern Family' actress claps back at online trolls, 'I'm NOT comparing. This is supposed to be a funny post.'
AceShowbiz –
It looks like Sarah Hyland can't even have fun on social media without trolls ruining it. The "Modern Family" star recently posted on Instagram a throwback photo of herself from 2007, featuring her sporting a dress which looked similar to Emily Ratajkowski's for her look at the 2019 Tony Awards red carpet on Sunday, June 9.
"The sisterhood of the traveling Tony dress," the 28-year-old actress wrote in the caption alongside a side-by-side comparison photo of herself and the supermodel. "Spotted on Sarah Hyland in 2007. @emrata spotted in 2019 wearing it 100000% BETTER."
In the photo, 16-year-old Sarah donned a sparkling black dress which featured a daring cut-out detailing. Meanwhile, Emily opted for the Michael Kors ensemble that also allowed her to flash some skin.
While both of them looked stunning in their own way, some fans made it seem like Sarah was comparing herself to Emily. The comment section was flooded with so much negativity which was mainly directed to Emily. "disagree, you looked classier," one user said, while another fan added, "I liked it better on you. Shows less and looks more classy."
That prompted Sarah to clarify her post. "I can't believe I'm editing this," she wrote. "I'm NOT comparing. This is supposed to be a funny post. PLEASE do NOT say anything rude about 'who looks better.' It's not even the same dress."
Despite the negativity, some fans showed symphaty to the actresss as one of them commented, "The fact that you have to explain the whole joke of this picture shows how f***ed up people can be. Anyways, I laughed!" One other said, "Welcome to 2019 where we have to explain our jokes. Oh, what a time to be alive."
Fortunately, the backlash didn't make things awkward between Sarah and Emily. The "Blurred Lines" babe wrote in the comment, "you look amazing," alongside several heart emojis.