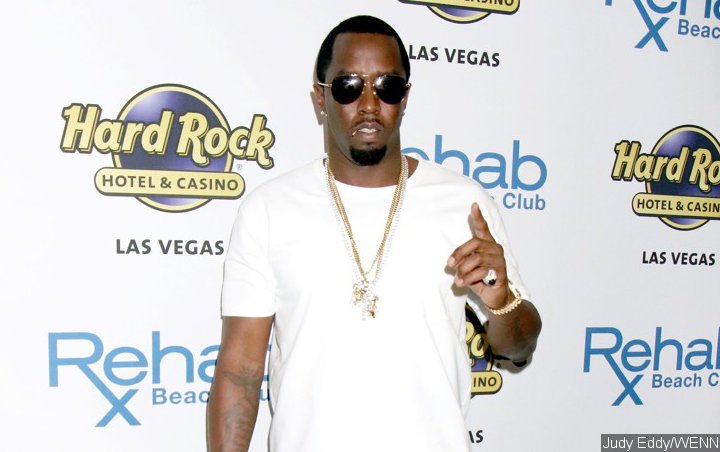 The hip-hop mogul, whose worth is reported at $900 million, is pictured wearing an oversized colorful sweater and fluffy slipper boots when leaving his private jet.
AceShowbiz –
Money can't but style. That's perhaps what best explains what happened to P. Diddy's looks in one of his recent sighting. The Bad Boy Entertainment founder has been photographed leaving his private in an unflattering ensemble.
The 49-year-old music producer, who is worth nearly $900 million according to Forbes magazine, donned an oversized colorful sweater and fluffy yellow slipper boots when departing the plane in Atlanta. He also sported a black round hat and carried a large bag of Barbecue potato chips.
After photos of his outfit that day surfaced online, the "I'll Be Missing You" hitmaker has been mocked on Twitter for dressing like a "ghetto" despite his reported hundreds of million dollar fortune. A shocked fan tweeted, "Whaaatttt is Diddy wearing," adding crying emojis. One commented on the first user's post, "He look homeless forreal."
"Diddy looks like a college student heading to an 8 am class on Monday," another described Diddy's appearance in the photos. A fourth user poked fun at his looks, "Clearly this fit is a bop. A Diddy Bop if you will." Someone else trolled the hip-hop mogul, "Is diddy auditioning for looney tunes?"
"I have them same ass slippers !!!! N****s was cuttin my ass this Summer when they pulled up to my crib and I had them on. I was just on my Diddy s**t," another user remarked. One other quipped, "Or was Diddy on his Channy s**t." Someone else compared his look to "a washed up TeleTubbie."
However, a few have defended Diddy's choice of outfit. "I don't blame him. Them s**ts comfy af me and my man just got them," one wrote, referring to his fluffy slipper boots. Another said the "I Need a Girl" rapper can wear "Whatever he wants. He's a millionair (sic)." Another user added, "Y'all talking about what he wearing, did y'all forget he stepping out of a private jet."