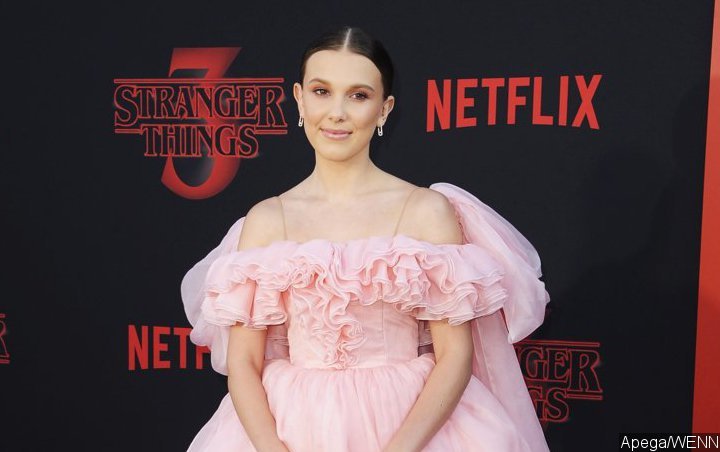 While the 'Stranger Things' star has denied any involvement in the upcoming Marvel movie, Kumail Nanjiani gets coy when asked about his casting rumors.
AceShowbiz –
Millie Bobby Brown has addressed reports linking her to Marvel Studios' next potential tentpole movie. The British actress has been widely rumored to star in "The Eternals", and now she has finally spoken up about whether there's any truth to the news.
The Eleven of Netflix's hit series "Stranger Things" said during a fan Q&A on Instagram Live that she's not involved in the said Marvel project, at least not for the time being. "Everybody thinks I'm going to be in a Marvel movie," said Brown in the stream. "Not that I know of. My family and I have no idea. So I just want to let everyone know…that I'm not as of right now," she said.
While Brown has given a straight answer, Kumail Nanjiani who is also said to join "The Eternals" cast got coy when asked about the matter. "I cannot comment on that," "The Big Sick" star and writer said at an event promoting his new movie "Stuber" alongside his co-star and MCU star Dave Bautista. He added, "It would be so great to be part of a superhero film. I would love it so much."
Besides Brown and Nanjiani, other names who have been linked to "The Eternals" include Angelina Jolie, Salma Hayek, Richard Madden and Keanu Reeves. "Maleficent: Mistress of Evil" star Jolie is said to star as a near-immortal being, while "Game of Thrones" alum and "Bodyguard" actor Madden may portray Ikaris, but none of the cast members for the movie has been confirmed so far.
"The Rider" helmer Chloe Zhao has been tapped to direct the movie, making history as the first woman of color to direct a superhero movie for the studio. Matthew and Ryan Firpo, who topped the 2017 Black List with their spec script "Ruin", penned the script for the upcoming movie, with Kevin Feige producing.
"The Eternals", created by Jack Kirby, focuses on the super-powered and near-god beings known as Eternals created by cosmic beings known as Celestials. They are intended to be the defenders of Earth, leading to a war with their villainous adversaries known as the Deviants, set millions of years ago. The comics debuted in 1976.
The movie reportedly will involve "the love story between Ikaris, a man fueled by cosmic energy, and Sersi, who relishes moving amongst humans." No release date is set for the movie just yet.