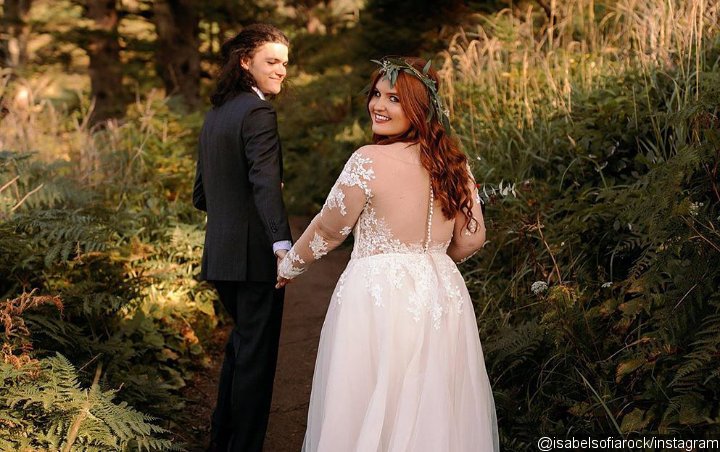 Fans also praise the newlywed couple as one says, 'These pictures are flawless congrats you two!' while another user dubs their first wedding photo 'a beautiful picture.'
AceShowbiz –
"Little People, Big World" star Jacon Roloff and wife Isabel Rock are a happy married couple as they shared the first photo from their wedding on Saturday, September 7. His wife took to her Instagram account to share a sweet photo from their a rustic, farmhouse ceremony.
The photo saw Jacon and Isabel posing in the woods as they were walking on a small path. Isabel was stunning in her wedding gown while holding hand with her husband who looked dapper in a black suit. "We are married," so she captioned the picture before adding hashtag that read #rockandroloffwedding.
After she shared the photo, people flooded the comment section with positive comments. Unsurprisingly, her husband was among them. "My beautiful wife," he wrote, while sister-in-law Audrey Roloff said, "OBSSESED with this photo and you guys."
Fans also gushed about the new married couple as one said, "These pictures are flawless congrats you two!" Another user dubbed her snap "a beautiful picture." Someone else said, "Beautiful! Congratulations!! A lifetime of joy, happiness and love for the two of you."
While the pic was the first photo from Jacob and Isabel, Audrey and Jeremy Roloff blessed fans by sharing a slew photos from the wedding. "What a celebration! Congratulations Jacob and Isabel on taking the ultimate step of love – total commitment. The final step being living it out! So excited for you guys! Welcome to the family sister! We're all married, and the family continues to grow!" he captioned the photos.
Matt Rollof also gave the couple a shout-out in an Instagram post that featured Jacob posing with his siblings, in-laws and mother Amy Roloff. "Congratulations to our youngest son Jacob and his beautiful new wife Izzy. What a fun evening celebrating this perfect couple!!" Matt said.
Photographer Monique Serra also took to Instagram to share a beautiful image of Jacob kissing his wife in the middle of sunflower field. "I have a million things to say about these two and their perfect celebration of marriage and love. The way Jacob looks at Isabel is unlike anything I've witnessed before," Serra wrote. "The way Izzy is giddy every time Jacob reaches for her hand is undeniable. Their love is raw, real, unique, and all consuming. They are a light in this world and anyone who knows them, understands that."
Serra went on saying, "Mr & Mrs Roloff, thank you for allowing me to tell your story, in the most organic way possible. For letting me in, for trusting me, and for the friendship we will forever have. I love you both more than I could ever express! This past week was a dream come true. I can't wait to share more."
Jacob and Isabel got engaged in December 2018 after Jacob popped the questions during a trip to Iceland. "Right then, Jacob spun me around and said, 'Alright, one more gift…' and that is the moment he got down on one knee and asked the question I'd been longing to hear," Isabel recalled the moment when Jacob proposed to her in the middle of a frozen lake. "He asked with a ring box he had hand built out of real wood and my dream ring. I said 'YES!' and leapt into his arms to hug him and we both cried."