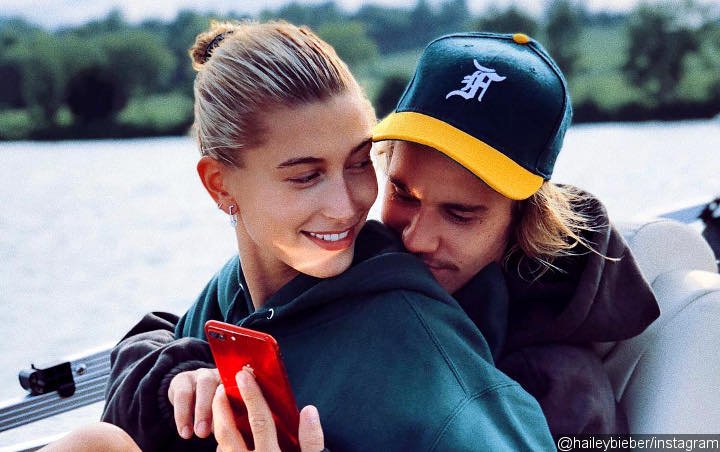 For the intimate event which takes place around May River, the 'Love Yourself' crooner opts for a casual style in a white polo shirt and black pants while sporting a fresh haircut for the event.
AceShowbiz –
Justin Bieber and Hailey Baldwin's wedding celebrations have officially kicked off. The pair gather their family and close friends in South California where they're holding their lavish ceremony at the five-star Montage Palmetto Bluff. Some photos of their intimate nuptials have made their way out online, offering a look at their rehearsal dinner.
In the photos obtained by Daily Mail, the 25-year-old singer and his 22-year-old bride were captured arriving at Moreland Landing, a small banqueting hall nearby, on Sunday, September 29. Hailey looked stunning a super short ivory gown, with a low v-cut neckline. The model accessorized with a white bow in her hair that matched her $975 Jimmy Choo stiletto heels.
Meanwhile, Justin opted for a casual style in a white polo shirt. As for the bottom, he chose black pants and color-coordinated shoes. The "Despacito" hitmaker, however, sported a fresh haircut for the event.
The photos featured the couple crossing the May River near Palmetto Bluff in a flotilla of small boats. Police were also seen escorting down the super stars to the venue, which offered spectacular views of the May River that was lit up with fairy lights for the event.
Everything was nicely decorated for the bash as picnic tables were decorated with beautiful floral arrangements, brush and reeds. Also adding a spectular touch for the event was baskets that was filled with greenery, hanging from the ceiling.
Justin and Hailey were joined by the Canadian singer's mother Pattie Mailette as well as Hailey's parents Stephen Baldwin and Kennya Baldwin. Also present at the dinner was Bruce Dale, Justin's grandfather and Justin's aunt Candie Buck.
It is said that Katy Perry and Kendall Jenner will be among the guests at the main event later. Rumor has it, the reception will take place at sunset on Monday at the hotel's ballroom, which is only a short walk from the chapel.
Ahead of their wedding ceremony, a source previously revealed that the pair, who legally married last year, are so much "in love" with each other. "Despite some hard days, they really are two kids who are crazy in love. Hailey has a sweet, pure heart and her life is simple and uncomplicated," said the source.
The informant went on saying, "That's something Justin has craved for a long time whether he knew it or not. Hailey brings stability to his world, and she truly just wants to build a loving, happy home and family with Justin."
It was said that their second wedding for the Christian couple would be a larger, religious ceremony. "Their marriage is rooted in their faith. When things get difficult, they lean on their pastors and church friends," the source explained.