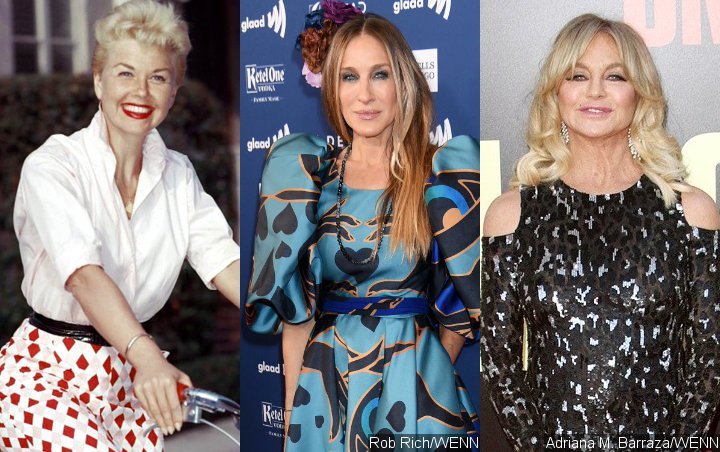 The Hollywood icon, who turned 97 weeks earlier, passed away after contracting a 'serious case of pneumonia,' prompting tributes from the likes of William Shatner and Stella McCartney among others.
AceShowbiz –
Sarah Jessica Parker, William Shatner, and Goldie Hawn are among the stars mourning the loss of Hollywood legend Doris Day following her death on Monday, May 13.
The iconic singer and actress passed away at her home in Carmel, California just weeks after celebrating her 97th birthday, after contracting a "serious case of pneumonia," according to officials at her animal rights foundation.
Celebrity fans and friends flocked to social media to honour her memory after hearing the news, with Sarah Jessica Parker posting a series of images of Day on Instagram.
"Oh Ms. Day, A Cincinnati girl just like me," the "Sex and the City" star captioned the pictures. "How many letters I drafted to you and didn't send. I could never get it right but they all said the same thing, I love you. Millions did and do. Godspeed."
Fashion designer Stella McCartney shared a snap of herself posing with Day on Twitter and wrote, "The one, the only, the woman who inspired so much of what I do… Doris Day I love you, my calamity Jane."
"An iconic woman who I was hugely honoured to meet and share precious moments with. Rest in peace."
Goldie Hawn tweeted, "The great Doris Day left us and took a piece of the sun with her. She brighten our lives (sic) and lived out her life with dignity. May she rest peacefully," and Shatner remembered the actress as "the World's Sweetheart… beloved by all".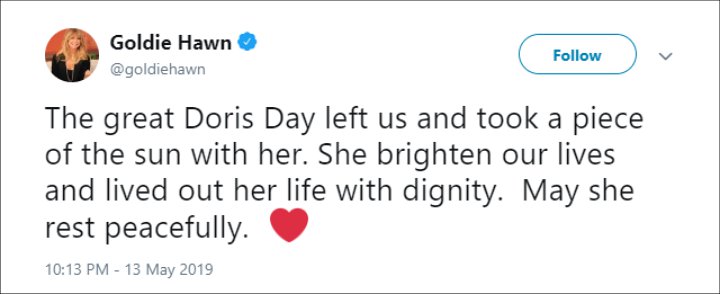 Goldie Hawn paid tribute to Doris Day.
Shatner remembered the actress as 'the World's Sweetheart.'
"Thank you for your talent. R.I.P. #DorisDay," wrote Antonio Banderas, while British actor Luke Evans posted, "Goodbye Doris Day, there was only one of you! I have always loved your voice and the beautiful songs you made eternal. RIP."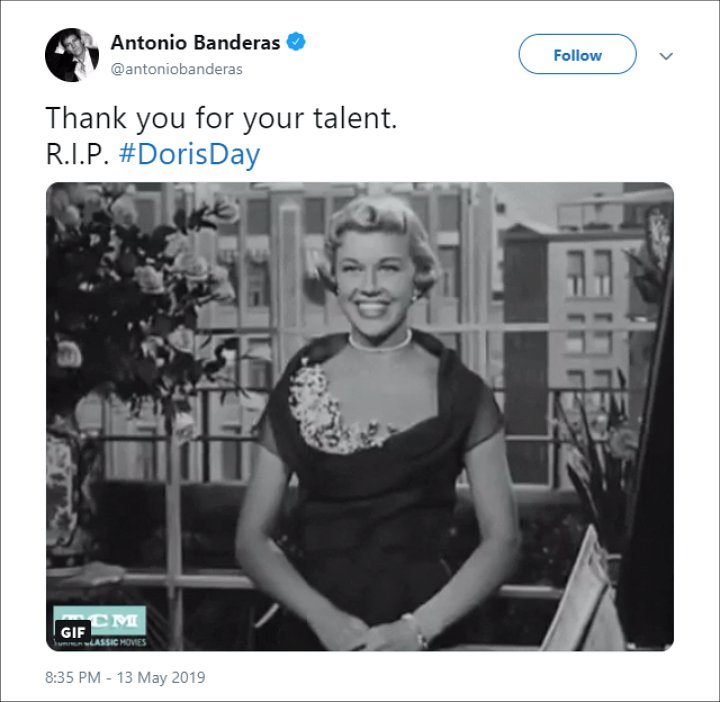 Antonio Banderas thanked late Doris Day for showing people her talent.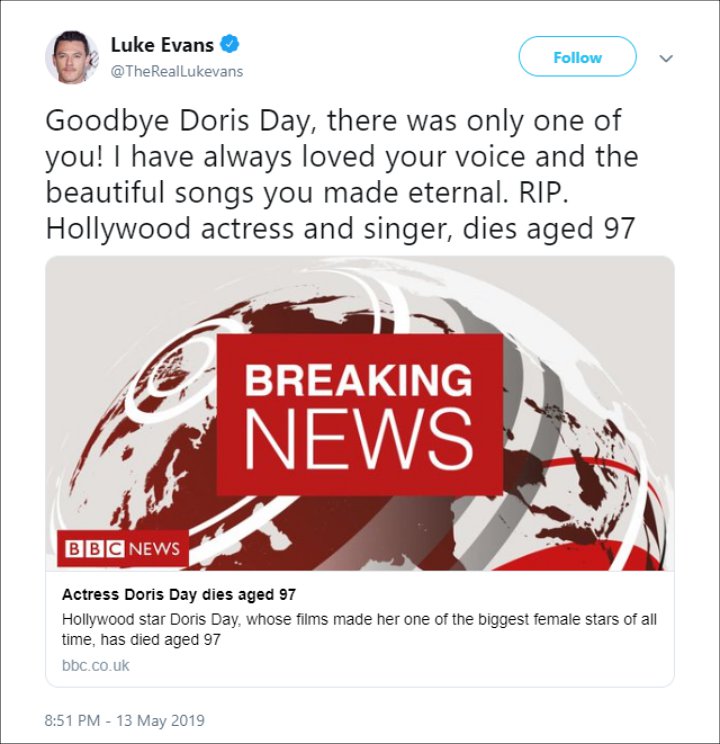 Luke Evans gushed over the late actress.
And Carl Reiner, who wrote her 1963 romantic comedy "The Thrill of It All", also remembered his old pal on Twitter.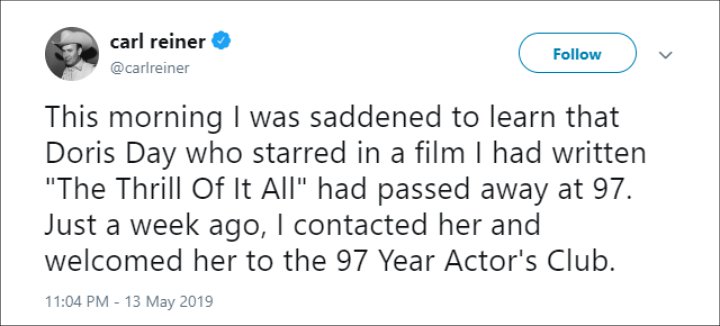 Carl Reiner remembered Doris Day.
"Just a week ago, I contacted her and welcomed her to the 97 Year Actor's Club," he tweeted.