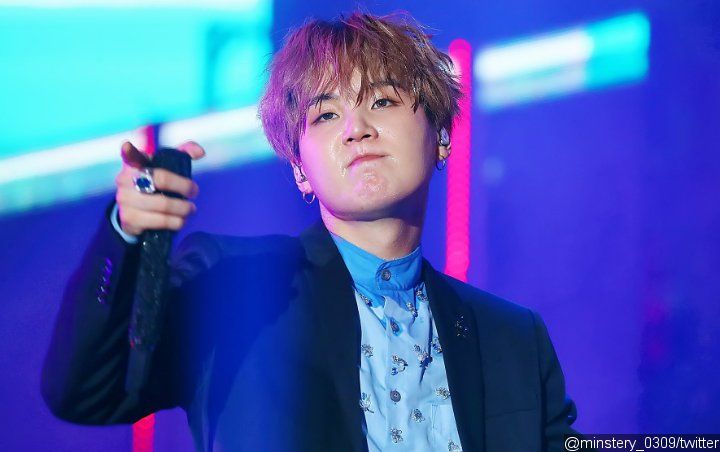 ARMY profess their love for the rapper, whose real name is Min Yoon Gi, no matter his size and make #YoongiWeLoveYou trending worldwide on Twitter after the group's performance at Lotte Family Concert.
AceShowbiz –
Suga of South Korean popular boyband BTS (a.k.a. Bangtan Boys) gained extra attention following the group's performance at Lotte Duty Free Family Concert. During the Sunday, August 11 show, fans noticed that the rapper looked chubbier than before, prompting immediate talks on social media about his weight gain.
Some people appeared to be attacking the 26-year-old idol, who also performs under his stage name Agust D, for gaining weight over the past month since the group went on a hiatus following their performance in Shizuoka, Japan. But ARMY quickly come to Suga's defense, with many of them professing their love for the Daegu native on Twitter using the hashtag #YoongiWeLoveYou, making it trending worldwide in a matter of hours.
One fan who hit back at the body shamers wrote, "okay so.. are they rly saying things about Yoongi 's weight(?)wtf is wrong with them wtf I think is THE NORMAL WEIGHT for him. And idc if someone doesn't like that, bc is HIS F***ING BODY and if he is healthy then nothing matters. Stop being so s**t."
Another told the haters to shut up, "Yoongi is looking the healthiest and happiest I've ever seen him and some of y'all have the nerve to talk s**t about his weight?? Just leave the fandom then y'all ain't no real ARMYs anyway and we don't want you here."
"#YoongiWeLoveYou stop talking s**t yoongi looks so happy and HEALTHY and cute, some of you really just need to shut up," one other similarly said.
Some others declared that they would continue to support Suga no matter his size. "I'll never stop loving the look of your cheeky smiles and adorable actions. Stay healthy, cutie, sexy and lovely!!" one wrote. Another posted, "No matter how fat you are beb #YoongiWeLoveYou." Someone else commented, "you're perfect just the way you are , don't let anybody change you ! we love you so much lil meow meow."
Suga and other BTS members are currently enjoying their extended break following their performance at the Lotte Family Concert. "We would like to announce that for the first time since their debut, BTS will be going on an official and extended period of rest and relaxation," the group's label Big Hit Entertainment announced on late Sunday. "Today's (Sunday) LOTTE DUTY FREE FAMILY CONCERT performance will make the last scheduled event before members prepare to take their vacations."
"This period of rest will be an opportunity for the members of BTS, who have relentlessly driven themselves towards their goal since their debut, to recharge and prepare to present themselves anew as musicians and creators. This will also provide them with a chance to enjoy the ordinary lives of young people in their 20s, albeit briefly," it added.
The statement continued to read, "During this time, the members will rest and recharge in their own personal ways. Should you have a chance encounter with a member of BTS while they are on vacation, we ask that you show consideration for their need to rest and enjoy their private time off. BTS will return refreshed and recharged to return all the love you have and continue to show them."
However, BTS won't be completely absent from their fans during that period of hiatus. Just a day after the announcement, Jimin held a V Live broadcast during which he revealed that he woke up at 4 P.M. on his first day on vacation. He also promised that he would return on V Live on August 14.