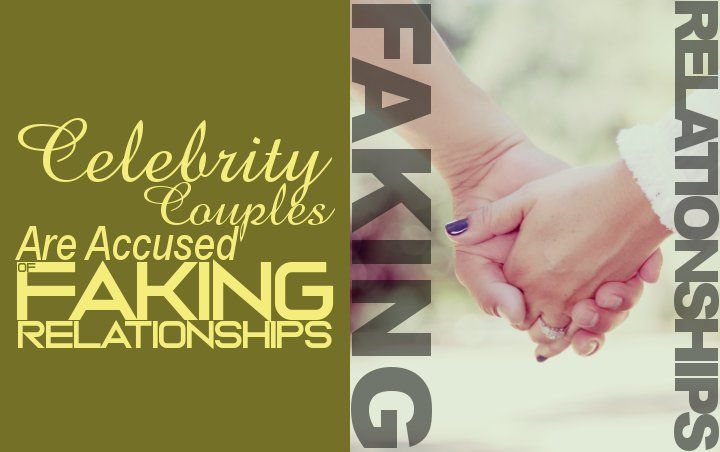 There are many reasons why people suspect that one relationship seems fake and most of the times it's when they announced their relationship amid their collaboration.
AceShowbiz –
Celebrities will take the great length to do anything for publicity, including faking romantic relationships. There has been a lot of celebrity couples that people doubt to be real and the recent example is YouTube stars Jake Paul and Tana Mongeau, whose whirlwind romance surprises everyone.
Tana, who previously was in a polymary relationship with Bella Thorne and Mod Sun, revealed she was engaged to the social media influencer after the latter popped the question on her 21st birthday in June. The bride-to-be took to her Instagram account and revealed her new fiance had proposed with a cake that had "Will you marry me, Tana?" written on it.
Unsurprisingly, people thought they were not serious but Tana was quick to clarify the rumors. It seemed like fans were not the only ones who were not exactly convinced by their relationship as Jake's brother Logan Paul appeared to shade the now-married couple during his radio performance.
When stopping by Barstool Sports podcast on KFC Radio, the YouTuber explained how a fake relationship works before advising Tana to go away from Jake should their engagement be really fake. "There's no exchange [of money], but you can make money together. Like, say you make merch together, you probably split like 50/50 split, I hope so," he said. "Like what if my brother's like doing 80/20 with Tana? Oh Tana no, Tana don't do it. He been doing 80/20."
Despite the rumors, Jake and Tana proceeded with their Las Vegas nuptials and allegedly let the camera roll for a reality TV show. But the wedding didn't put a stop on the fake relationship speculations. Logan once again hinted that all this was done for publicity after sounding skeptical about Jake's romance. When asked if his brother's marriage would last, Logan said, "No," adding he gives it a "month, month and a half." Furthermore, Tana said that the wedding wasn't legally binding on paper.
In other cases, people suspected that one relationship was fake because the couple worked on a collaboration together. For this reason or another, here are other celebrity couples whose relationships are deemed fake by most people.
1. Shawn Mendes and Camila Cabello
---
Ever since Shawn Mendes and Camila Cabello released their sultry collaborative track "Senorita", people wondered if the young stars were dating or not. While people initially responded by saying they wanted them to date for real, people's opinion was quick to change when the singers started to flaunt PDAs out of nowhere shortly after the release of their hot music video for "Senorita".
The pair set tongues wagging after photos of them kissing in public emerged online, with some people deeming their relationship fake considering the lack of emotion that they had when kissing. Additionally, people spotted a cameraman tagging them alone when the rumored lovebirds went hot and heavy in a Miami beach, prompting people to assume that the PDA was all staged.
2. Nicole Richie and Steve-O
---
Fans might remember when Nicole Richie and Steve-O were in romantic relationship back in 2006. The pair were on the peak of their careers with Nicole starring on "The Simple Life" with bestie Paris Hilton while Steve was known for his crazy stunts on "Jackass". When the former couple announced their romance, people couldn't help but doubt though they eventually thought that their relationship might work since both were wild.
However, it didn't. Just like what people initially suspected, all of it was done for publicity with Steve himself confirming it. "The truth is she wanted some publicity for something other than being skinny. It was a big publicity stunt," he coolly revealed. "She would come pick me up — I don't drive. I think she called the paparazzi too. These mother effers were coming from all directions."
3. Tom Hiddleston and Taylor Swift
---
Taylor Swift's romance had raised some eyebrows multiple times, but the most bizarre thing during her love journey might be when she was dating actor Tom Hiddleston in 2017. The "Avengers: Endgame" actor was on the rise at the time and people seemed to think that dating the "Blank Space" hitmaker was merely a mean to bring more attention to all the projects that the British star had going on.
Additionally, it was a well-known fact that Taylor often wrote songs about her relationships and breakups. So, with her dating Tom, it was as if she was teasing her fans who were on tenterhooks for a new album. The then-couple seemingly wanted to make things more convincing with Tom sporting an "I [heart emoji] T.S." tank top during their Fourth of July rendezvous, though their attempt to convince people didn't seem to work when they broke up after just three months of dating.
4. Robert Pattinson and Kristen Stewart
---
People didn't seem to think it was all coincidence when Robert Pattinson and Kristen Stewart were dating after starring together in "Twilight". The Edward Cullen and Bella Swan depicters were rumored to be romancing each other just as soon as the movie saga started, prompting people to think that their relationship was just a publicity for the fantasy flick.
Their romance didn't last long because Kristen, who is currently dating model Stella Maxwell, was caught cheating on him with director Rupert Sanders. Robert himself didn't seem to be having a hard time moving on from the "Charlie's Angels" actress since he dated FKA Twigs not long after the breakup and even got engaged to her within a couple of months. However, them spending several years in an alleged faux relationship did work for their movies since it attracted attention from teens.
5. Zac Efron and Vanessa Hudgens
---
Zac Efron and Vanessa Hudgens were among the hot couples back in 2000s when they dated during their "High School Musical" era. Fans loved their chemistry as Troy Bolton and Gabriella Montez in the Disney flicks and were even more thrilled when they were dating in real life, but it was highly suspicious that their romance ended once the show stopped airing.
Fake or not, Vanessa revealed that her relationship with "The Greatest Showman" actor helped her deal with the sudden fame both she and Zac received at the time. "It was this massive phenomenon and [all] eyes were on me," the actress explained to E!. "And it's just a really weird foreign thing to go through, and by being in a relationship, it kind of kept me stabilized and grounded, and I had someone to lean on who was going through it as well."
6. Kim Kardashian and Kris Humphries
---
Kim Kardashian may be happily married to Kanye West, but before that, she was briefly married to Kris Humphries. The former couple tied the knot in a $10 million wedding in 2011, only to get divorced after 72 days. That sounded ridiculous to many people, prompting them to think that was a faux relationship.
Further fueling the speculation, the Kardashians appeared to milk the wedding, which was attended by 450 guests, for a four-hour special spanning two nights titled "Kim's Fairytale Wedding: A Kardashian Event". The retired basketball player also said in his essay called "I Never Wanted to Be That Guy" that his marriage to the KKW Beauty founder was "brutal" and "embarasing," though he insisted that "our actual relationship was 100 percent real."
7. Ryan Seacrest and Julianne Hough
---
Ryan Seacrest and Julianne Hough were probably among celebrity couples who most people didn't see coming. The TV host and the "Dancing with the Stars" judge started dating in 2010. People couldn't help but think that their relationship wasn't real considering their romance happened just when rumors about his sexuality surfaced.
The pair eventually broke up after being together for three years and what further added fuel that they might have a deal behind their relationship was that the "American Idol" host reportedly presented her one with final transaction which was a new house. While Ryan is currently single, Julianne recently married NHL player Brooks Laich. Ryan had nothing but praise for his ex as he said, "She looks stunning," during an episode of "Live with Kelly and Ryan".
8. Riff Raff and Katy Perry
---
Back in 2014, fans were sent into frenzy when Riff Raff said he was dating Katy Perry. Both of them successfully grabbed people's attention when they showed up at the MTV Video Music Awards in full denim as they attempted to channel Britney Spears and Justin Timberlake.
When asked if they were dating at the time, Riff responded, "We got a couple kids on the way," while the "Fireworks" singer was seen giggling as she made her way into their SUV. Things got even weirder when she said, "I love him," before rolling down the window. Almost unsurprisingly, no one was convinced that their relationship wasn't a publicity stunt.
9. Michael Jackson and Debbie Rowe
---
Michael Jackson dated his dermatological nurse Debbie Rowe not long after he split from Lisa Marie Presley. Although the King of Pop was married to Debbie for years, people seemed to notice that there wasn't spark between them during their loveless marriage.
Debbie, with whom MJ shared three children, herself admitted in a British newspaper that they never had sex, explaining, "I went to the 'office,' which is what we called the medical clinic. They impregnated me. It's just like I impregnate my mares for breeding. It was very technical." She added, "Just like I stick the sperm up my horse, this is what they did to me. I was his thoroughbred." She went on dropping bombshells, "Michael was divorced, lonely and wanted children. I was the one who said to him, 'I will have your babies.' I offered him my womb — it was a gift. It was something I did to keep him happy."
10. Kelly Preston and John Travolta
---
Many fans noted that there were many odd things in Kelly Preston and John Travolta's marriage. The high-profile Scientology couple was married for 23 years, but that didn't stop people from believing that the whole marriage was fake and it was used to keep the actor's actual sexual preference a secret.
Additionally, a tell-all book titled "Kelly Preston Unscripted", which was written by Robert Randolph, claimed that Kelly was "hiding her own sex secrets" through the alleged fake marriage. Randolph further said, "I'm also checking out rumors that Kelly boozes and pops pills, and that both she and John once both shared the same sexual partner!"