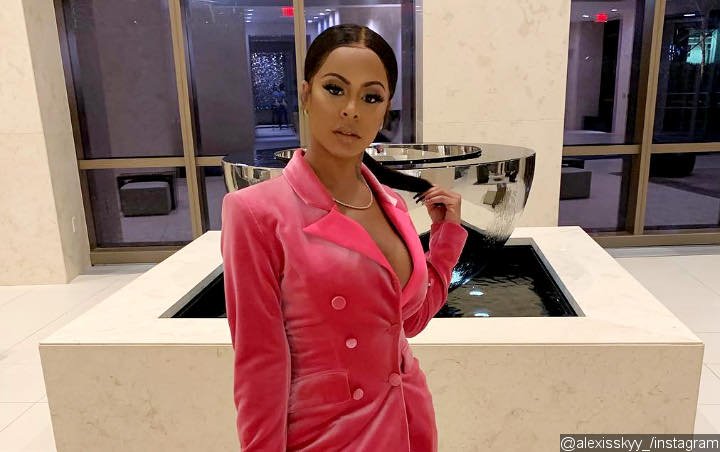 Sitting down with her pal Sabrina Peterson for an interview, the reality TV star admits that the incident has traumatized her so deeply that she doesn't want to go to a gas station.
AceShowbiz –
Alexis Skyy has broken her silence after she and her friend Sabrina Peterson were robbed at gunpoint in Atlanta over the weekend. In a new interview, the "Love & Hip Hop: Hollywood" star opens up about her feelings when the unfortunate incident took place.
Sitting down with Sabrina during the interview, Alexis admitted that she couldn't stop thinking about her children at that time. "I thought about our kids," she said. "Just imagine me not being able to turn around and go grab her out and our kids are kidnapped. That was my biggest fear." The reality TV star also said that the incident had traumatized her so deeply that she doesn't want to drive around with her daughter, Alaiyah Grace, and go to the gas station.
"They're targeting all black girls," Alexis continued. "Everybody that reached out are young black girls." Later, the "Love & Hip Hop: New York" beauty urged the police to stop such incidents from happening as saying, "We can't stop people from robbing, we can't be superman. But they can stop certain things from happening in certain area and certain times."
Besides doing in an interview, Alexis also held a protest at the gas station where she and Sabrina were robbed. People were initially sounding off about this as they thought that she would not get anything from doing that at the gas station, but the mother of one has since shut them down by explaining the real reason why she led a protest there.
She wrote on Instagram Stories, "Everyone gets robbed in ATL everyday … we can't stop that… but we need the gas station and Atlanta police department to increase their security… and we need this QUIKTRIP TO RELEASE THE FOOTAGE OF Any of us GETTING ROBBED so yuh damn right ima explain wtf happen and stand out here and ride for everyone!"
Crediting Sabrina for helping her "put in my tire not hers smfh so y'all need to really stop being so f***ing evil! It's f***ing sad ! Our kids coulda be in the car … then what … y'all don't care till it happened to you."