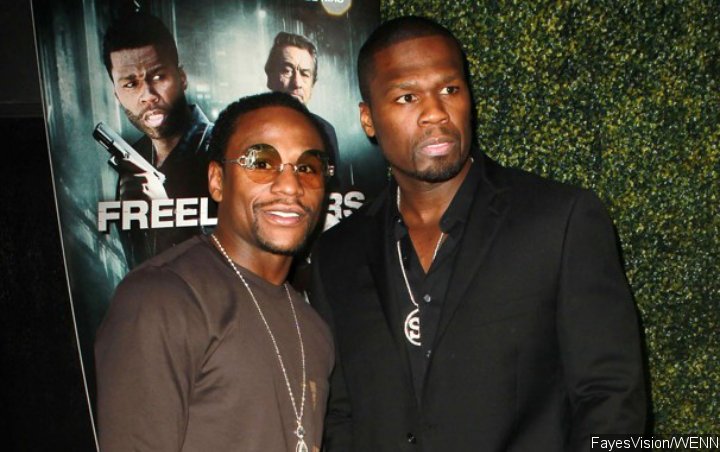 The 'In da Club' hitmaker calls out his nemesis for his questionable choice of outfit after the retired professional boxer shares a picture of himself dressing in a Louis Vuitton coat.
AceShowbiz –
Having been feuding for years and not showing any sign of calling a truce, 50 Cent always finds what Floyd Mayweather, Jr. does wrong. Most recently, the rapper/actor picked on the former professional boxer for his fashion style.
On Monday, September 30, the 43-year-old former athlete posted a picture on Instagram showing him rocking a black suit underneath a Louis Vuitton coat, shiny leather shoes, an expensive-looking necklace and a pair of aviator glasses. He proudly captioned it, "All I do is dress, flex and progress."
Not a fan of Floyd's style, 50 Cent then compared his BFF-turned-enemy's outfit to grandma's style. He took to his own Instagram account to share an edited version of Floyd's snap, with the professional boxing promoter's face being replaced with an old lady's head. He trolled his longtime nemesis, writing, "Champ on his bulls**t again … dats that granny drip. LOL."
Many of Fiddy's followers find his jab funny. Mario Lopez simply wrote, "Hahaha." Bodybuilder Ulisses Jr. quipped, "Who wore it better?" Another user enthused, "Granny swag… thats his next fight…, " while many others left laughing-so-hard-I'm-crying emojis.
50 Cent and Floyd were best friends before their friendship went south in 2012. At that time, 50 said on "The Rickey Smiley Morning Show" that their relationship was strained after Floyd stopped hanging out with him. "Everybody around him is waiting on the next time he feels generous," he said. "And I have a lot, so I don't wait for nobody. It's just a space and time. I'll go and do what I have to do. I don't gotta sit around and wait for the next time he feels like giving somebody something."
The two have since engaged in endless war of words on social media. Earlier this year, Fif also called out the Pretty Boy for wearing an outfit similar to Mary J. Blige's.
"I think Mary rocked this better, Champ look like a f**king jockey," the "Power" star/creator wrote along with a side-by-side photo of the R&B diva and the former fighter dressing in similar red leather jacket, black pants and red knee-length boots.