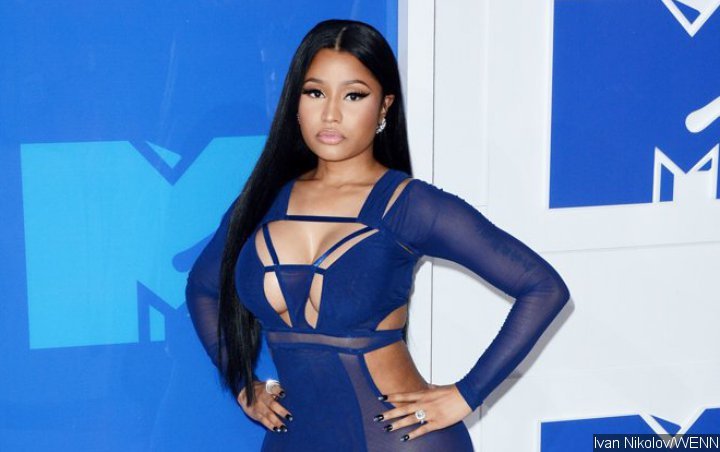 Recalling the time when Jamaican police pulled guns on her after she finished her set, the female emcee writes, 'I could make one mistake and go to jail in a diff country where women have no rights.'
AceShowbiz –
Just when Nicki Minaj thought she had been free from criticism after canceling her performance in Saudi Arabia, she faced another backlash. This time, people were not having it as they believed Nicki was saying that Jamaican women have no rights when she tried to explain the reason behind her Jeddah World Fest cancellation.
Recalling the time when she performed in Jamaica, the "Megatron" rapper shared how police surrounded and pulled guns on her when she forgot to "bleep a couple curses." Nicki additionally said that she was almost arrested because of that. "I could make one mistake & go to jail in a diff country where women have no rights."
Reading her tweet, people began to misunderstand and think Nicki was stating that the women in Jamaica have no rights, just like what happened in Saudi Arabia. Thus, the backlash started. "Women have rights now in Jamaica. And they had them in 2010 lmfao," one said. "As a Jamaican woman I would love for you to explain how we have no rights here?" someone asked as one other noted, "Our country is safe 100% and women have rights full rights."
Nicki didn't wait too long to respond to the backlash and clarified what she really meant in her tweet. She wrote on the micro-blogging site, "Ummm for the ppl in the back, I wasn't saying Jamaica doesn't have women's rights. I gave an example of what happened in JA to explain how easy it would be to do one thing wrong in Saudia Arabia b/c I'm not aware of every single rule & be locked up. Everyone knows I love JA. STFU."
She added in another tweet, "It's like y'all purposely misunderstand me. Just say you don't like me and GWARN!!!!"
Nicki revealed that she would scrap her performance in Jeddah World Fest in Saudi Arabia after being urged by Human Rights Foundation. This is because women and members of the LGBTQ community were struggling under the leadership of Crown Prince Mohammed bin Salman.
"After careful reflection I have decided to no longer move forward with my scheduled concert at Jeddah World Fest," she said in a statement. "While I want nothing more than to bring my show to fans in Saudi Arabia, after better educating myself on the issues, I believe it is important for me to make clear my support for the rights of women, the LGBTQ community and freedom of expression."