finally got her Medal of Freedom after she was on November 22. Prior to the ceremony, the comedienne shared on Instagram a photo of her sitting on a bench outside the White House and wrote in the caption, "They haven't let me in to the White House yet because I forgot my ID. #NotJoking #PresidentialMedalOfFreedom."
Fortunately, the problem was solved before the ceremony took place. She joined 20 artists, athletes, activists and more who received the honor from President Barack Obama. Ellen clearly couldn't contain her emotions as the POTUS fastened the blue-ribboned medal around her neck.
President Obama acknowledged Ellen's contribution to the LGBT community. "It's easy to forget now, when we've come so far, where now marriage is equal under the law, just how much courage was required for Ellen to come out on the most public of stages almost 20 years ago," he said. "And she did pay a price. We don't remember this. I hadn't remembered it. She did, for a pretty long stretch of time, even in Hollywood. And yet today, every day, in every way, Ellen counters what too often divides us, with the countless things that bind us together, inspires us to be better, one joke, one dance at a time."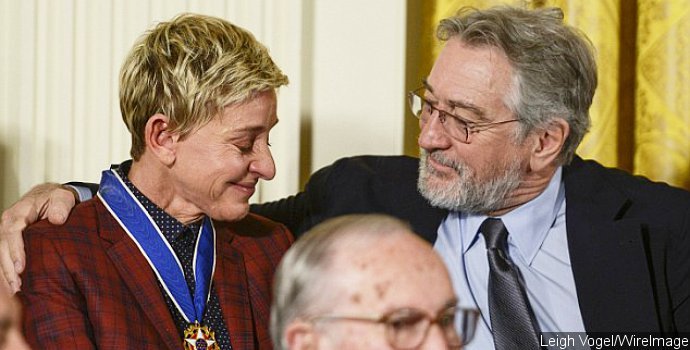 She was still crying after she returned to her seat. Fellow recipient who sat next to her hugged her and planted a sweet kiss on her head to comfort Ellen. She was joined by her wife , who was dressed in a white top and black skirt with pumps, at the event.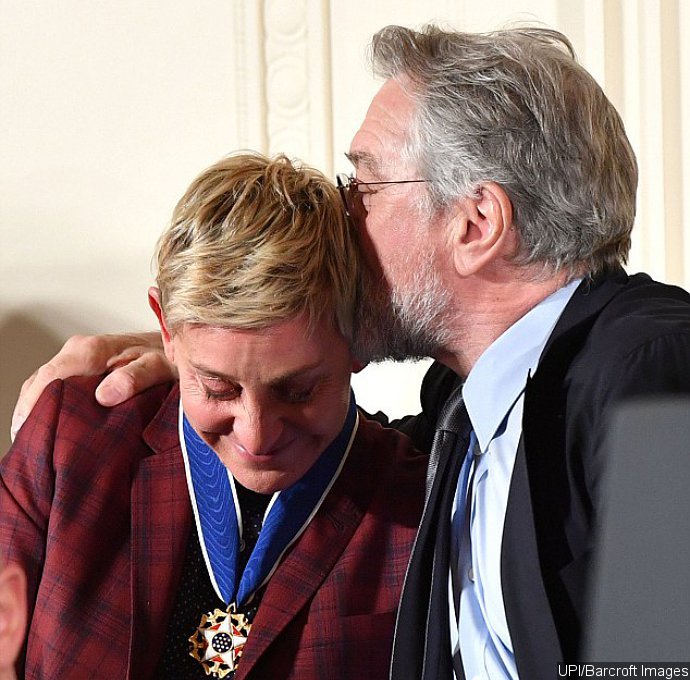 While at the White House, Ellen and other guests didn't miss the chance to take the Mannequin Challenge. The talk show host, fellow Medal of Freedom honorees Robert De Niro, , , , Bill Gates and Kareen Abdul-Jabbar, as well as Portia De Rossi, and many others joined in on the fun.
I'm in. pic.twitter.com/oU344pnYsH

— Ellen DeGeneres (@TheEllenShow) November 22, 2016
This year's Medal of Freedom recipients also included Melinda Gates, , Lorne Michaels, , Vin Scully and .
.@POTUS Barack Obama just awarded me the #MedalofFreedom. I hope it serves as an ID. I have no idea how I'm getting home. pic.twitter.com/JSMf0sJqyF

— Ellen DeGeneres (@TheEllenShow) November 22, 2016
© AceShowbiz.com